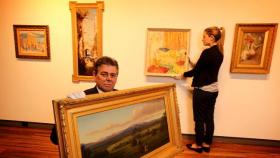 Deutscher and Hackett
Deutscher and Hackett has offices in both Sydney and Melbourne. The Sydney gallery has just moved to Goodhope Street, Paddington, just near Paddington's "Five Ways", while the Melbourne gallery is located on Commercial Road, South Yarra, the premium district for fine art and antiques.
Founded by Chris Deutscher and Damian Hackett, who draw upon over 50 years of combined experience in the commercial gallery, auction house and museum sectors, this auction house specialises in sales of Australian and Aboriginal art.
Annually, Deutscher and Hackett conduct three major fine art auctions of works by Australian and International artists and two major auctions dedicated to Australian Aboriginal art.
---