Lot #434 - Cook, James - A voyage towards the South Pole, and round the world.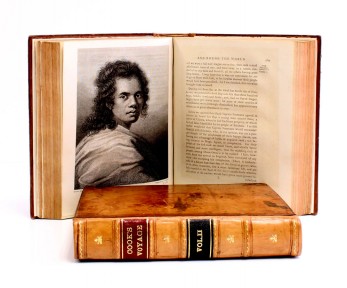 Auction House:

Webb's

Sale Name:

The C.L. Thomas Collection

Sale Date:

21 Mar 2012 ~ 12noon

Lot #:

Lot Description:

Cook, James - A voyage towards the South Pole, and round the world.

Performed in His Majesty's Ships the Resolution and Adventure, in the years 1772, 1773, 1774, and 1775. Written by James Cook, Commander of the Resolution. In which is included, Captain Furneaux's narrative of his proceedings in the Adventure during the separation of the ships. In two volumes. 1st ed. London : Printed for W Strahan and T Cadell, 1777. 4to. Page size: 287 x 228mm. Volume I: xl, 378p. Frontispiece, 36 maps and plates. Volume II: 396p. 27 maps and plates. 1398. Beddie 1216. Full leather. Rebacked. New endpapers. Hinges reinforced. Trimming to contents. Wear to original boards, especially to extremities. Sporadic foxing and soiling to contents. Bookplate of Roger Hesketh Esq, Tulketh, and label of Rossal Hall Library on front pastedowns. Minor insect damage to first 50 or so pages of volume I. Tidy repair to page 81/82 of volume II. Dampstaining to lower inside corner of several pages of volume II. Cook's main task on the second voyage was to disprove the existence of a southern continent, his New Zealand calls being confined to two stop-overs for recuperation and watering, etc. Discovery's six weeks in Dusky Sound gave opportunity for surveys of the seaward end of the inlet and Resolution Island before reuniting with Adventure in Ship Cove. Dr John Douglas, Canon of Windsor and St Paul's, carefully revised Cook's text and, later, that of Cook and King for the third voyage. A handsome set of the first edition. G to G+.

Estimate:

NZ$6,000 - 6,000

Realised Price:

*****

Can't see the realised price? Upgrade your subscription now!

Category:

Books & Manuscripts
This Sale has been held and this item is no longer available. Details are provided for information purposes only.