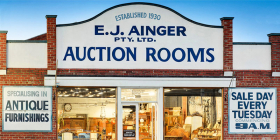 E J Ainger Pty Ltd
E J Ainger is a Melbourne-based auction house. They are located in Bridge Road, Richmond, a short distance north of Melbourne's CBD.
This auction house is a family-owned business and has been operated for three generations by the Ainger family.
They hold weekly sales of antiques, decorative arts, paintings and collectables. Additionally, they hold occassional specialised sales featuring deceased estates and very large collections. Amongst the specialised auctions, E J Ainger have presided over the sales of "The Benjamin Bradley Collection", "Furnishings of Mr Barry Iles" and "The Contents of the Historic Homestead of Glynt Manor".
---